What Is Your New Year Resolution?
(สำหรับภาษาไทยเลื่อนอ่านข้างล่าง)
If you are a veterinary professional or student and looking for a volunteer vet assistant role, look no further than PAT!!
Not only you will work alongside with expert team, but also you will learn and gain valuable experience from
real action using modern equipment, for more information, visit peopleanimalsthailand.org.
If you are unable to volunteer, why not donate? Every little helps www.wfft.org/donate/ (Mention " PAT ")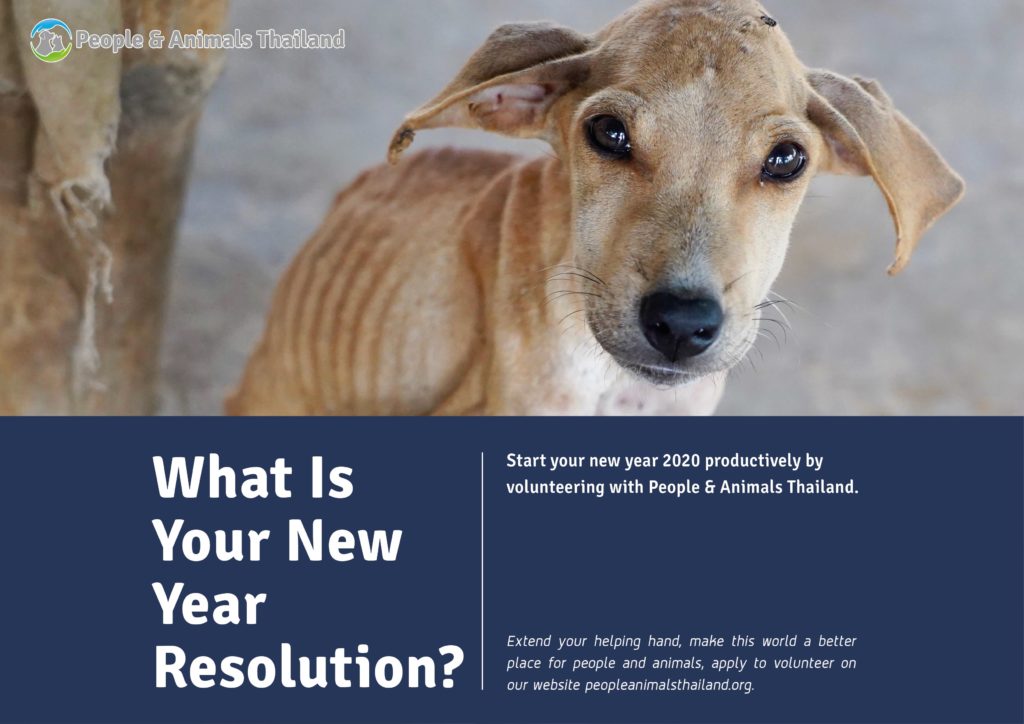 เริ่มต้นปีใหม่ 2020 ของคุณอย่างสร้างสรรค์ ด้วยการร่วมเป็นอาสาสมัครกับคลินิกสังเคราะห์สัตว์ (PAT) ช่วยกันสร้างให้โลกนี้
ให้น่าอยู่มากขึ้นสำหรับสัตว์จรจัดเเละมนุษย์ คุณสามารถอ่านรายละเอียดการจองได้ที่ www.peopleanimalsthailand.org
หากคุณเป็นนักเรียนหรือทำงานอยู่ในด้านที่เกี่ยวกับสัตว์เเละกำลังสนใจทำงานอาสาสมัคร ไม่ต้องมองที่อื่นไกล คลินิกสังเคราะห์สัตว์ (PAT) อยู่นี่เเล้ว!!
นอกจากคุณจะได้ทำงานอย่างใกล้ชิดกับทีมสัตวเเพทย์ คุณยังจะได้ลงมือทำจริงๆพร้อมกับอุปกรณ์ที่ทันสมัย คุณสามารถอ่านรายละเอียดการจองหรือบริจาคเงินได้ที่ www.peopleanimalsthailand.org